Sometimes dishwashers will have an issue where they still operate, yet they do not work properly, and other times, they don't work at all. It's important to know the common issues that can arise with a dishwasher so that you're able to troubleshoot the problem and either perform the repair yourself or know what to expect when you call a repairman.
Will Not Start
Let's start with those times that a dishwasher won't even turn on for you. That can be frustrating indeed, and it can make you think that there is a very costly problem, perhaps even requiring the dishwasher to be replaced. Fuses should be checked as well as the circuit breakers before you start jumping to any conclusions. You also want to pay attention to any wiring that could be damaged and the door latch is another quick thing to check.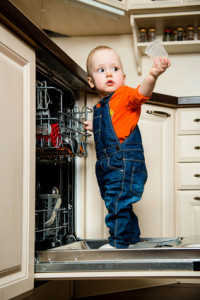 Internal components of the dishwasher can of course be the problem if your dishwasher won't turn on at all. That being said, the more complicated issues might require the help of an appliance repair service. Of course, if you're able to and have the right tools to test the motor and other components, then you can take care of this on your own.
Sometimes the motor for the dishwasher does start to come on, but the dishwasher doesn't start doing its thing. In this case, you might end up finding a blockage somewhere around the pump or even the motor. The drive belt is another part that you're going to want to inspect to make sure that it's not part of the problem.
Is there a water leak?
Could the water supply for your dish washing machine be turned off at the moment?
Some of these steps may sound a little basic, but you wouldn't believe how often it's something small and even something that is forgotten. Taking the necessary troubleshooting steps helps you guarantee that you've tried everything ahead of having to call a service technician to pay the big bucks.
You can also check the float switches and the drain valve arm. What if you were to find out that many dishwasher repairs aren't only small things, but that the customers themselves end up being able to fix them most of the time?
You would want to save yourself some money, and you would at least want to check the easy stuff first. See if you can identify the problem and be able to handle the repair.
Other issues you may face are:
A noisy unit
Leaks
The door latch is not working
The detergent is not being dispensed
Will not drain
The device is not filling up with water
The dishes are not being cleaned properly
Not properly drying dishes
Not heating
These communities are included in our Barrow County Service Area:
Auburn, Carl, Bethlehem, Russell, Braselton, Winder, Statham